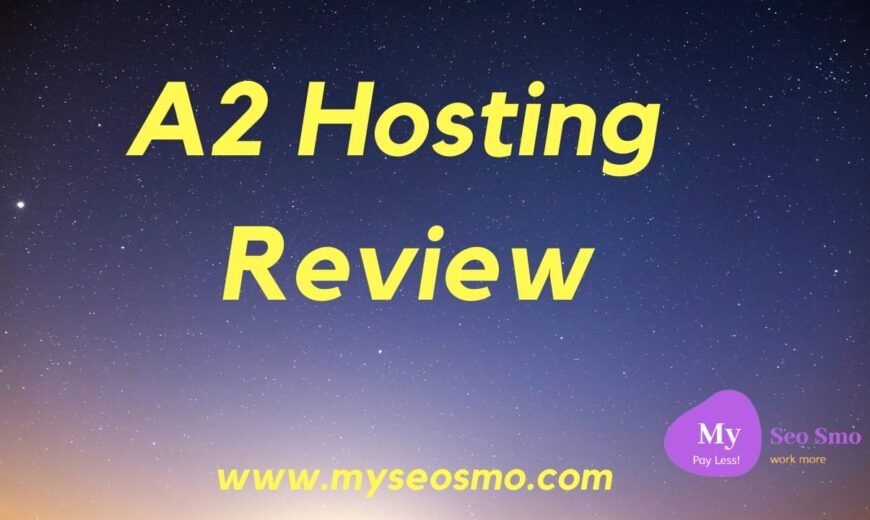 Whether you are a  newbie or a pro it is always important to have the right choice of what you are purchasing and when it comes to hosting plans we often get confused that which plan is best suited for us.
A2 hosting has been one of the best-hosting sites since 2001. It was founded by Bryan Muthig and is popular in the market for its high speed and efficient customer care support.
A2 hosting has developer-friendly hosting plans that one can access easily.
Now, We will discuss what are the things that A2 hosting offers.
Unlimited SSD space & transfer
Free and easy site migration
Free automatic backups
Anytime money-back guarantee
Speed optimization WordPress
99.9% uptime commitment
24×7 crew support
Free SSL certificate
All these things just starting at only 223.68 INR/ monthly.
Now, coming to the first point, A2 hosting provides unlimited SSD space means you don't need to worry about space problems and face space issues. You can write as much as you can and there won't be any restrictions. That is the best thing that A2 hosting provides, making it convenient for users to save more and more pieces of stuff without worrying about space.
Another amazing thing that A2 hosting provides is Free and easy site migration. You need not walk hundreds of miles or climb mountains for that. It is super easy for users to switch there hosting server as A2 hosting personally moves your existing website over to their server without costing any extra charge on all plans. All you need to do is reach out to their customer support department and provide your cPanel credentials and they'll do the rest of the work. You just have to pay for your plan. No other charges for these server shifting
If you have a shared hosting with Swift/ Lite/ Turbo plans, only on the website would be moved for free, whereas if you have a dedicated, reseller or managed VPS hosting you can have 25 site migration for free.
A2 hosting provides free automatic backups. Even if you couldn't back up your files you don't need to worry that it will be lost. This hosting itself backups all your files and leaves you tension free.
The most amazing thing about A2 hosting is that it offers an anytime money-back guarantee. Surprising? Isn't it? But Yes, they do.
If you feel in mid of the year that you're not satisfied with the service or you want to switch to some other service they will return your money back for the rest of the year that you have paid. They just charge for the time you used their service. That is the thing that attracts the users that their money is safe and ain't going anywhere.  Whenever they want they can ask for it if they are not satisfied or want to close their website or any other reason maybe.
Now coming to speed optimization WordPress. This is again one of the most catching features of A2 hosting. You need not put the effort into optimizing the speed of WordPress. A2 hosting provides the speediest page load. Your page will be loaded fast and hence people will be able to access it faster. This effort or A2 hosting to make your site speedy is appreciable.
A2 hosting also promises you a 99.9% uptime period. Your site will be available online for 99.9% of the time with the fastest speed for which A2 hosting is known. The site speed that has been measured from Feb 2018 to Jan 2020 was 317ms and it's pretty good. Though A2 hosting keeps on working on it to make it even better.
They provide 24×7 crew support. Whenever you face any problem they are just a call or an email away. All you need to do is share your problems with them and they reach out to as soon as possible. They don't delay in answering your problems or queries.
This is very convenient for users with any site related issues or query.
A2 Hosting also provides free SSL that is very important for your website. It's essential to make
Your site secure and for that you need SSL. It turns your HTTP site to https in no time making it secure and encrypted so that no third parties can read your content or able to access it. It will be only between you and your viewers.
Basic Plans of A2 hosting :
Now, we will discuss the basic plans that A2 hosting offers.
They have 6 types of plans :
Shared Hosting

  

Plan
Managed WordPress Plan
Reseller Plan
Dedicated server hosting Plan
VPS Hosting Plan
Cloud Hosting Plans
Shared hosting plans :
These are shared hosting plans. You will have a shared hosting with other users.
This hosting includes three types of plans-
Lite Plan – Here you can have only one website with unlimited SSD storage and transfer. In this plan, you can have 25 email accounts added, not more than that. Here you'll get easy cPanel Control Panel, free SSL certificate, and an anytime money-back guarantee. This plan is pretty good for bloggers or writers. This plan starts at $2.96 per month.
Swift Plan – This plan included unlimited websites with unlimited SSD storage and transfer. Here you get unlimited email accounts facility and easy cPanel. Also, free site migrations and free SSL certificate and free automatic backups, and of course any time money-back guarantee. This plan starts at $3.70 per month.
Turbo Plans – This plan includes everything that is mentioned in the swift plan with extra addition as up to 20X faster speed and A2 site accelerator.
Managed WordPress Plans –
A2 Hosting offers managed WordPress plans which are basically shared hosting which is optimized for WordPress. Here you'll get some additional WordPress features for example Staging. This hosting starts at $28.51 per month.
Reseller Plans –
If you are a reseller and you have your own customers, A2 hosting offers you this reseller plan where you can get the hosting and will be able to sell it to your customers without A2 hosting branding. Here you'll get a World-class WHM control panel and Free billing system option and all the features that we've discussed in the turbo plan of shared hosting, like free SSL certificate, 20X faster speed, Easy cPanel, etc. In addition to that, you'll also get a free domain reseller account, SSD optimized Hardware and Server location options. This plan starts at $20 per month.
Dedicated server hosting plans –
If you have a huge number of visitors on your website you certainly go for dedicated hosting plans. This hosting exclusively hosts your site. You are completely isolated and need not share any sort of space with others.  A dedicated host for your website. You can choose your management level. You get managed hardware and network and all the other facilities that the Turbo plan offers.
This plan starts at $120 per month.
VPS Hosting Plans –
This VPS stands for Virtual Private Server. This somewhat between a shared hosting and a dedicated server.  To be more explicit,  here a server is divided into small sub servers where that particular sub server will be host only your website. You need not share it with other users.  Here you can design your VPS which is unmanaged.
This plan starts at around  $5.2.
Cloud Hosting Plans-
Here your website will be hosted on various servers at the same time. There won't be any particular one fixed.
This is good for traffic gathering.
This plan starts at $5 per month for 20GB storage and 512MB RAM.
Some Key features or A2 hosting-
Best Speed :
A2 hosting has been popular since 2001 and is known for its faster speed. They have up to 20X faster servers. The exclusive turbo server option offers the fastest hosting experience and that is what makes people choose it without a second thought.
Free Hack Scan :
A2 hosting provides a free hack scan which is very helpful in protecting the sites. It scans malware and other attacks keeping your site safe and secure.
Content Management system and Website builder:
A2 hosting has its own website builder where you can customize your website very easily and you need to look for any developer to help you out. Without a single coding, you can get your site ready.
They have an amazing content management system. They provide various apps like WordPress, Joomla, Drupal, Magento that you can download and start writing your content.
So this is a flawless key point that A2 hosting has.
The drawback of A2 hosting-
One drawback that we found in A2 hosting is that it has expensive renewal charges. For example, if you have paid $5 in the beginning they'll double the charges at the time of renewal. This might get problematic for many. But this is the thing we see almost in all hosting plans and A2 hosting is competing better than others so this thing could be considered.
Some common QnAs –
Does our hosting choice depend on the computer's IOS?
A2 Hosting offers both Windows and Linux Hosting service options. It doesn't matter which operating system your computer has. The operating system of the hosting account is not dependent on the computer's operating system. So no need to worry.
What makes A2 hosting faster?
It has a turbo servers option that features up to 20X faster speed of the page. The turbo server offers a number of caching solutions that are easily configured in the A2 optimized tool. Caching solutions improve the performance of the page by storing key parts of your website in memory rather than loading each part of each time user visit to your site. One more thing that makes A2 hosting faster than others is SSD ( solid-state drives ) for storing memory. Unlike the old HDD(Hard disk drivers ) that used the spinning disk to access information, SSDs use flash technology for improving the page loads by up to 300%. A2 hosting includes SSDs for free.
I hope this article helped you in clearing your doubts and selecting what's best for you.
Keep visiting